Increasing talk of a 'No Deal Brexit'
As the October meeting of the European Council draws closer, the new Brexit Secretary, Dominic Raab, remains outwardly confident that a good deal can be negotiated. Other commentators, however, are starting to talk more and more about Britain's lack of a credible bargaining position, and the real possibility of no deal being agreed.
FAANG stocks begin to falter?
Whilst Apple became the first company to hit a $1tr stockmarket valuation, and Netflix showed some recovery from its low in July, Facebook and Alphabet both headed lower during the month.
Emerging markets led lower by Turkey and Brazil
Although the argument for EM investing remains generally strong, country-specific problems continue to damage returns as Brazil is hit by weak Q2 economic data and Turkey sees confidence fall and inflation rise further.
Peripheral EU debt under pressure
Peripheral EU debt markets were noticeably weaker at the end of the month as concerns over fiscal loosening led credit rating agency, Fitch to reduce its outlook on Italy's BBB credit rating from 'Stable' to 'Negative', hinting at a possible downgrade. Moody's made a similar move back in May.
Indian economy accelerates
Shrugging off trade tensions, economic growth in India accelerated to 8.2% (annual) in Q2'18, up from 7.7% in Q1'18 and the highest figure since Q4'11. Robust economic growth was driven by the construction and manufacturing sectors.
The World at a Glance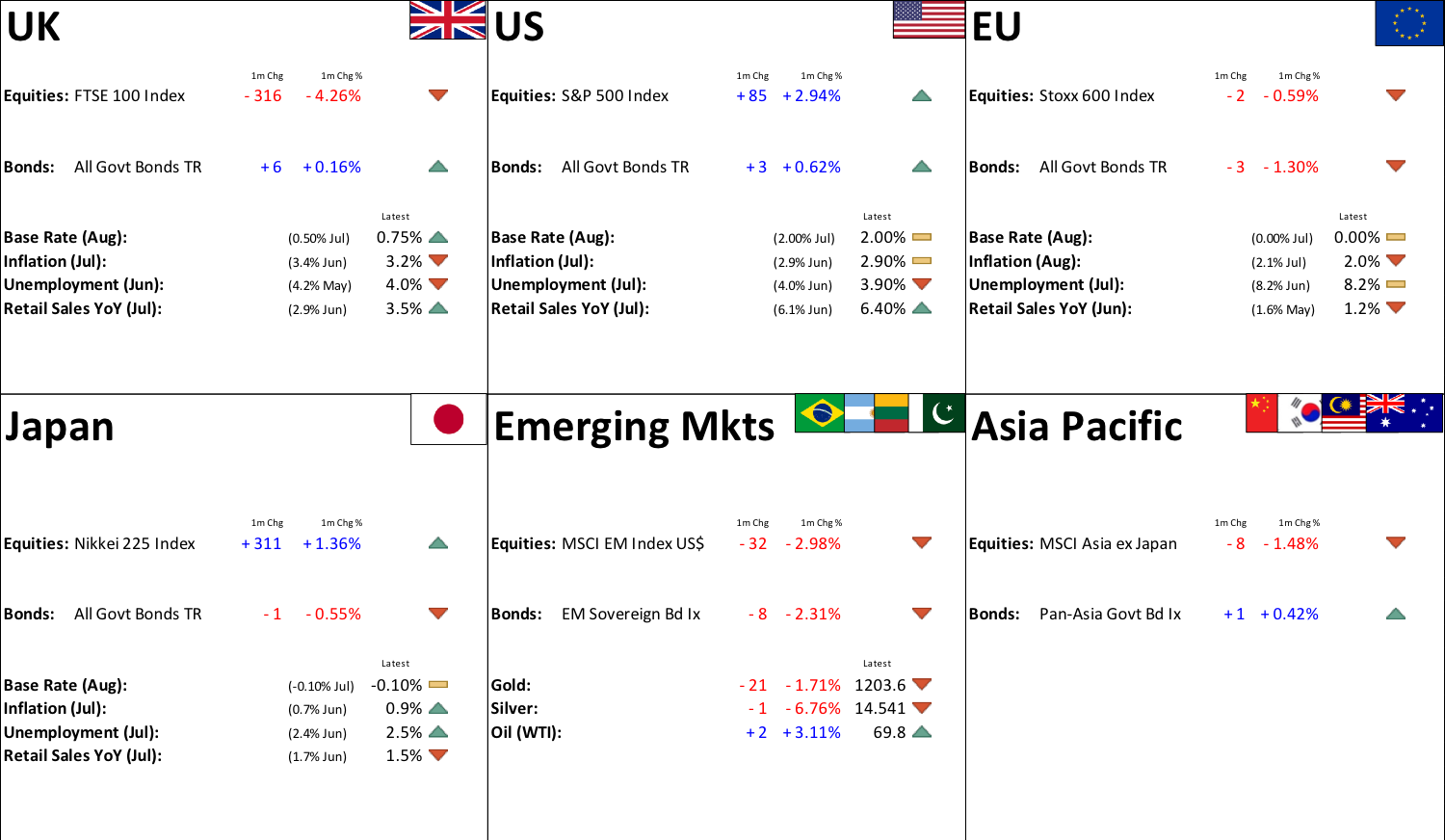 Sources: Bloomberg, Trading Economics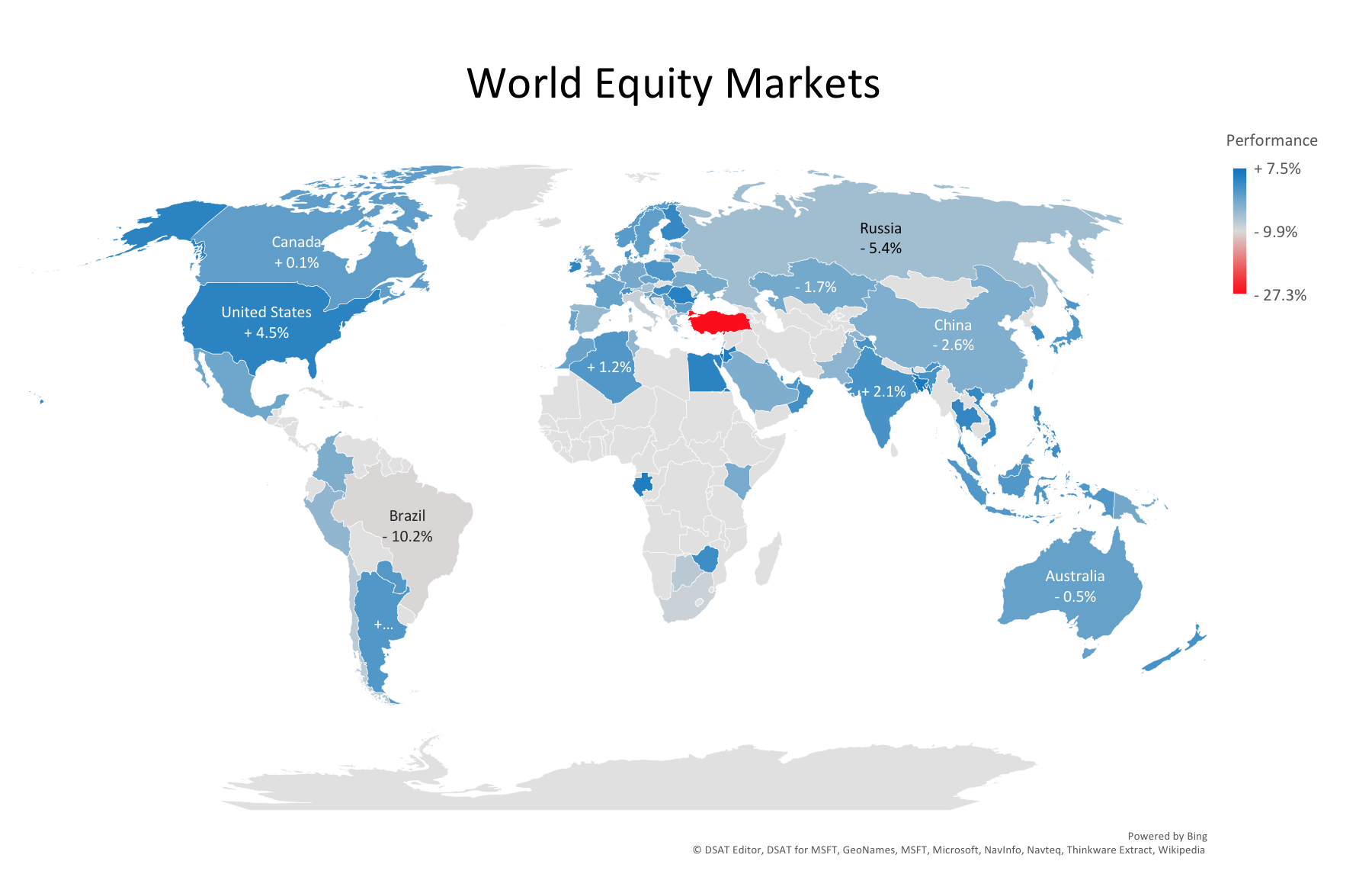 Source: Morningstar FTSE National indices in Sterling
During the month, the best performing major market, once again, was the US, with Turkey again the major faller, down 27.3%. Returns from the emerging markets were poor once again. Despite positive fundamentals, country-specific problems affecting Turkey and Brazil were compounded by weak returns from wider Asia, as concerns over the escalating Sino-US trade war remained in focus. The same fears also led many European markets to record losses, as, despite a more conciliatory tone from the White House of late, the EU remains a potential casualty of the spat between the US and China.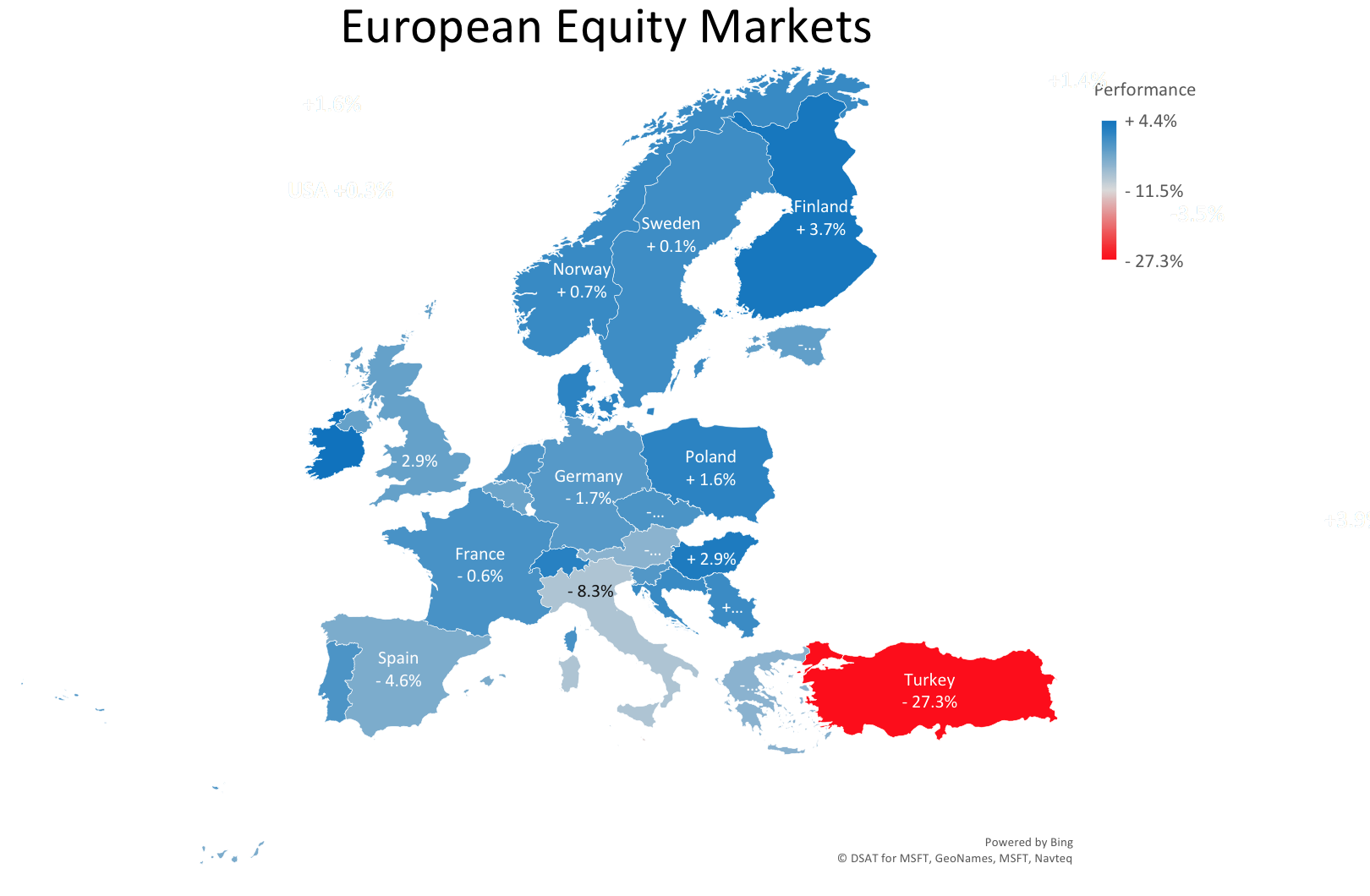 Source: Morningstar FTSE National Indices in Sterling
During the month, the best performance within Europe came from Ireland. The worst was Turkey, -27.3%, The pan-EU indices were mostly flat for the month, as Turkey is not part of the EU, but it was the Nordic countries that once again proved most robust. Trade war fears, and growing concerns about the possibility of a No-Deal Brexit, damaging to both parties, weighed on markets ahead of the October meeting of the European Council.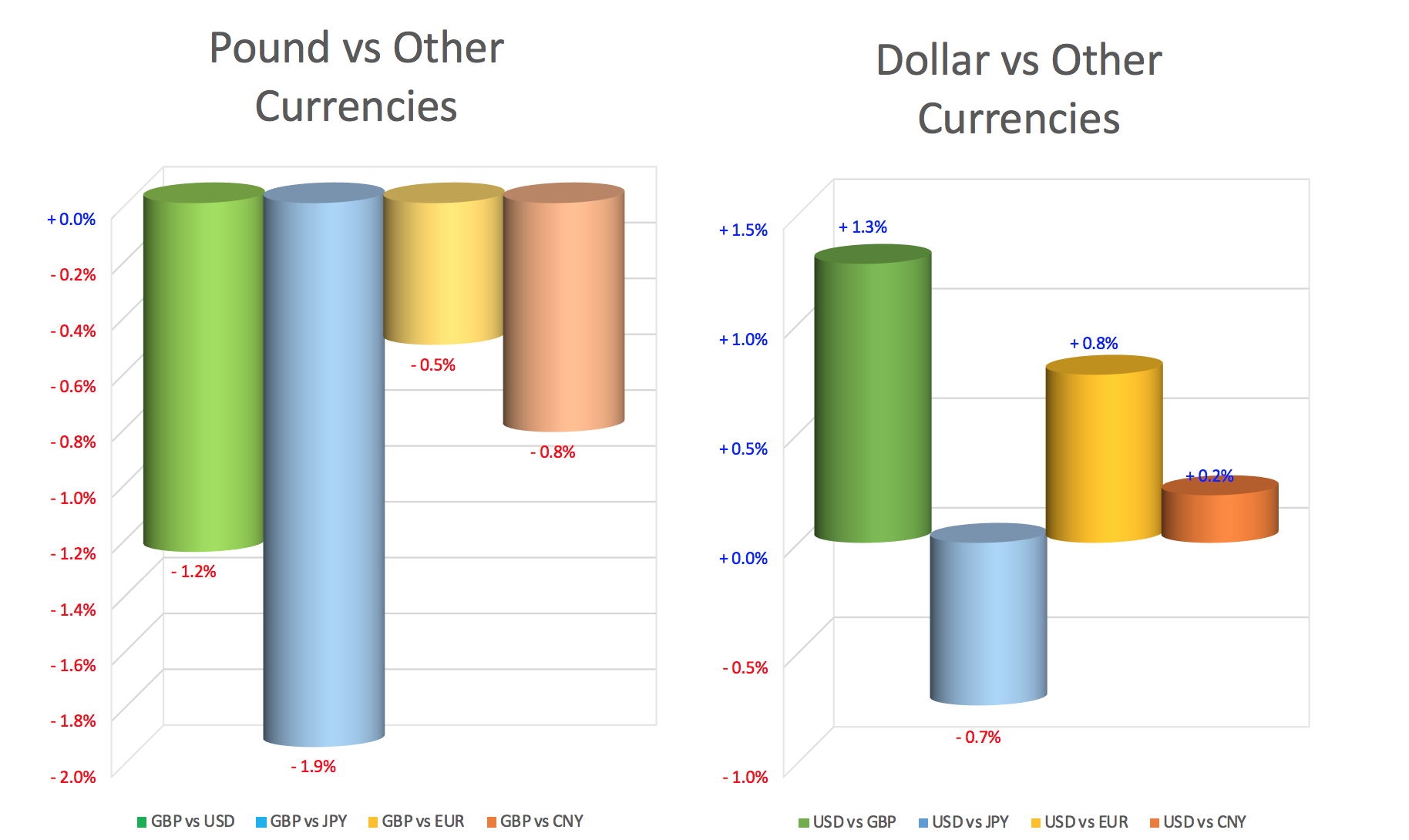 Source: Bloomberg
Movements between the major currencies were more muted in August, although the weakening of Sterling and strengthening of the Dollar continued, providing a mild headwind to performance relative to the World Index. Sterling saw a short-lived blip upward late in the month, when Michel Barnier spoke of an 'unprecedented deal' being offered to the UK, but the Pound quickly fell back when no further comment was forthcoming.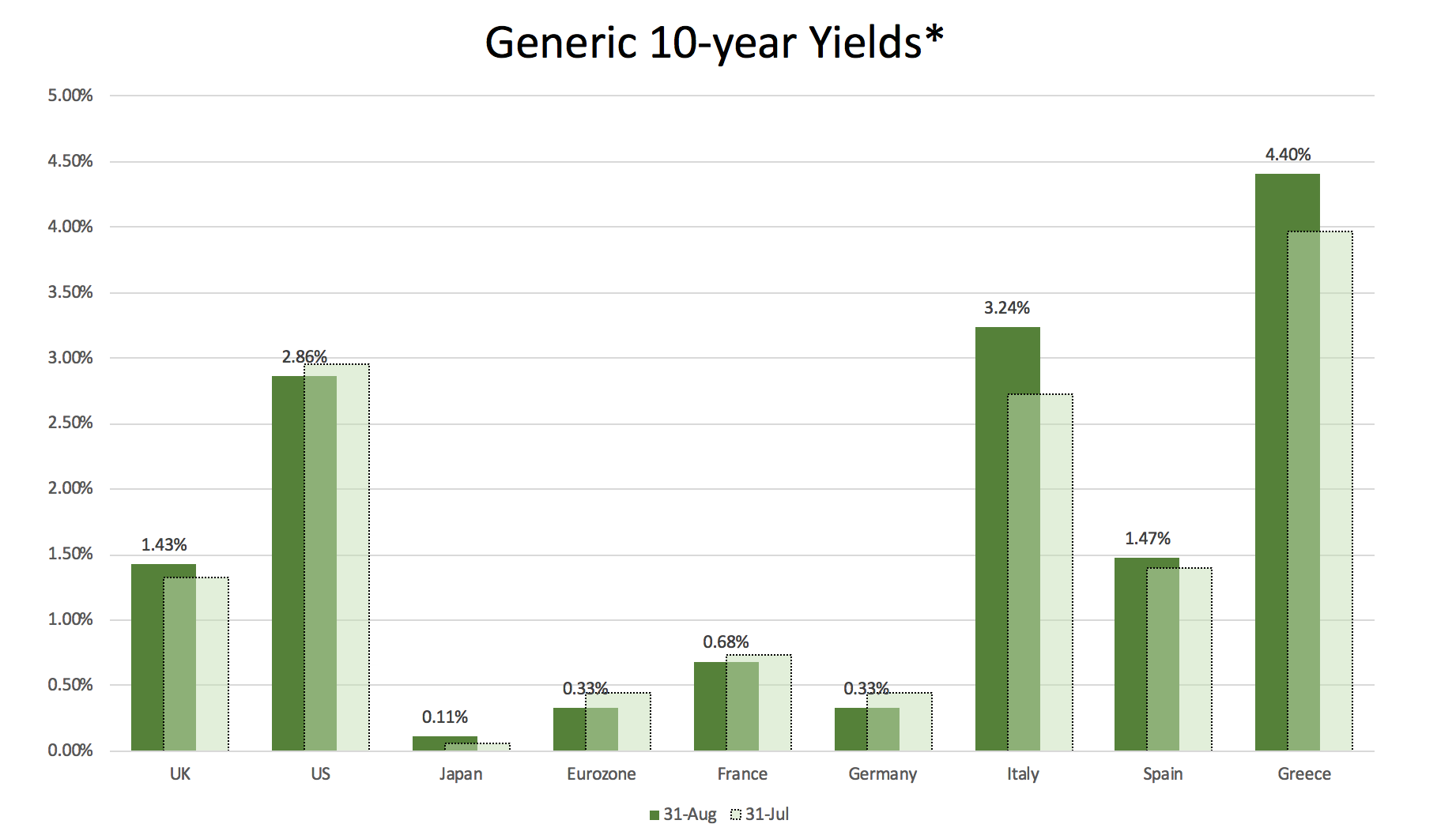 Source: Bloomberg
UK rates rose in the wake of a fully-expected 0.25% increase in the BoE base rate early in August. Bond yields in the peripheral European markets were the main story during the month, however, as Fitch followed Moody's example and changed its outlook on Italy's BBB Government rating from 'stable' to 'negative', potentially paving the way for a further downgrade of the credit rating, citing concerns over fiscal loosening.
*A Generic bond is a theoretical bond that always has the specified tenor, unlike a Benchmark bond, which is a physical bond, with a decreasing tenor.
The Outlook for Emerging Markets
In recent months, and particularly in August, global headlines have turned increasingly sour on emerging markets, with terms such as "contagion", "bear market" and "sell-off" making a regular appearance. Year to date emerging market equities have fallen 3.4%, while developed markets (led mainly by the US) have risen 9.1%, in Sterling terms, according to MSCI indices. Emerging bond markets have been similarly hit, with most measures of emerging market bond indices down over 5%.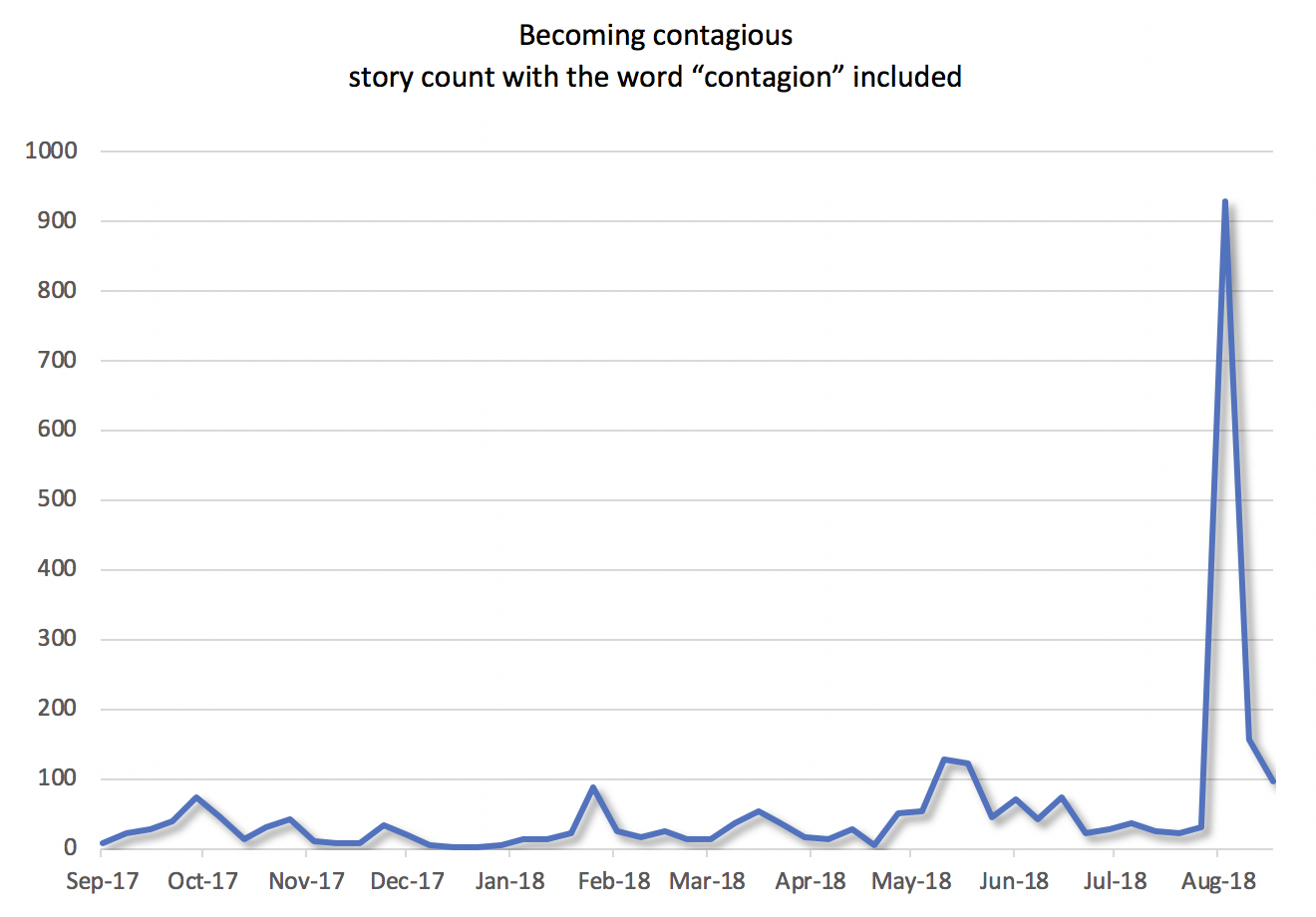 Tracked by Bloomberg
In this context its worthwhile taking a step back to consider the circumstances of emerging markets and review the case for broad emerging market investment.
Why are emerging markets selling-off?
Some of the challenges confronting emerging markets are clear. These being the rise in the US Dollar, tightening from the Federal Reserve and the Trump Administration's Trade Policy. As US interest rates rise, emerging market sovereigns and corporates are forced to compete for funding with safer US fixed assets (including Treasuries). Rising rates also create upward pressure on the US Dollar, negatively impacting those corporates and sovereigns which have debt denominated in USD. Trump's Trade Policy is a further challenge in this context as emerging markets (most notably China) face the prospect that a key export market (the US) becomes more difficult to access. Certain emerging markets, notably those with current and capital account deficits such as Turkey, will be particularly negatively impacted due to their reliance on external funding.
Arguably however, the headline narrative on trade wars and quantitative tightening here is misleading. The current distress in emerging markets is attributable to several factors. To illustrate:
Argentina's need for financing from the IMF is, at least partly, attributable to the poorest harvest in a decade, hampering the economy and exports
Problems in Turkey, and the precipitous decline in the Turkish Lira, are not helped by a certain disdain for traditional economic policy shown by Erdogan, or the dispute between Ankara and Washington over the arrest of a US pastor. The pastor is accused by Ankara of carrying out activities on behalf of organisations behind the failed 2016 coup
Our conversations with Asian and emerging market fund managers suggest that China's actions to tighten monetary policy, to rein in debt and promote financial stability, may have had a greater market impact than external political/monetary factors. This is a realistic possibility given that retail investors account for close to 90% of trade volume within the domestic China A shares market
If not for these specific issues, the situation in emerging markets would likely be less negative than it is today.
Short-term concerns, Long-term opportunities
In the short-term, markets are driven by sentiment, and investors may be hard pressed for optimism at the moment. The nature of asset allocation means that if investors are worried about emerging markets, there is a likelihood they will divest from them all together, rather than discern between strong and weak countries. Outflows from emerging markets have been substantial, with investors pulling some USD 15.2bn from emerging markets in the three months ended July'18, according to Morningstar.
However asset price contagion and economic contagion are two different matters. Risks are high through a tightening cycle, but financial stability in most emerging markets does not appear to have been compromised. To illustrate, China's foreign exchange reserves, a key watchpoint for capital outflows, have remained stable, at slightly over USD 3trn throughout the year. Meanwhile, Central Banks in India, Indonesia and The Philippines, have prudently hiked rates to maintain financial stability and support their currencies. Even Argentina's recourse to the IMF can be viewed in the context of sensible economic decision-making.
In this context, long-term opportunities remain in emerging markets, from which patient investors can benefit. A notable long-term theme has been consumption growth, which is unlikely to be derailed by recent events. In China, in Q2'18, disposable income for urban households grew over 8% y-o-y, at much the same rate it has for the past few years. This income growth continues to drive strong retail sales in the country. India too has experienced rapid growth in consumption, with Q2'18 GDP data showing a rise in private consumption of 7.9%, year on year.
This growth translates into real earnings for companies, where feedback from our active managers has been helpful in cutting through the noise associated with sentiment. Their on the ground discussions and analysis of companies has indicated that many are meeting, or even exceeding operating expectations. Often companies are raising wages alongside their improved earnings, for example Yutong Bus, a Chinese bus manufacturer, is raising wages by some 15%. Positive fundamentals are also reflected in forward earnings estimates for the MSCI China Index rising notably year to date, even as the index has dropped.
MSCI China Growth Expectations
Estimated compound annual growth rate of EPS for the next full business cycle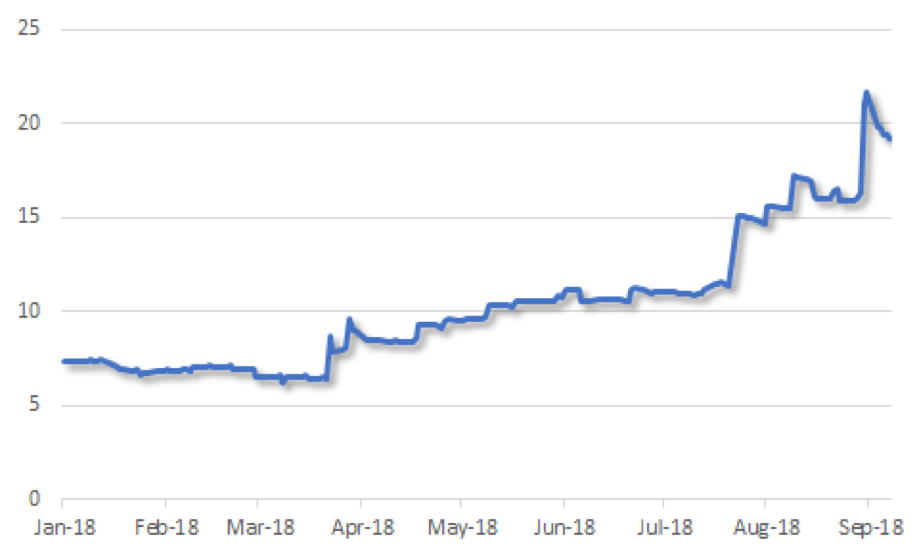 Source: Bloomberg
For some, the arguments above may sound a bit like old news, and that may be because little has changed fundamentally for most emerging markets in the year to date. If emerging markets didn't have the vulnerabilities outlined above, they would possess a lower growth profile, be more mature in their development, and perhaps be considered as developed markets. Investors should remain mindful that Emerging Markets have been through periods of stress before, and often these are accompanied by painful (though useful) economic lessons. It is perhaps not coincidence that some of the greatest emerging market wealth generators Alibaba (1998) and Tencent (1999) were founded in the aftermath of the Asian Financial Crisis. We therefore remain cautiously optimistic towards specific emerging markets, albeit conscious of the implications should conditions deteriorate further.