During February, world markets saw the correction that many commentators have been expecting for some time. The downturn in global equity and bond markets was triggered by US wage inflation data that triggered a rise in the ten-year US bond yield to 2.86%, sparking fears of more and faster Fed rate rises. Falls were spread over a few days in early February, with the US market reaching technical correction territory (more than 10% of its high) at one point, though shares were quick to recover some of their losses, and the overall returns on the month were generally in the -2% to -6% across major markets. Emerging markets fared similarly badly, led by the Asian economies, which had been strong performers in recent times. Russia managed to produce a positive return over the month.
In the UK, headlines were dominated by political concerns as Brexit talks ran into difficulties once again, highlighting the fractures within the Conservative party over the strategy. Meanwhile, EU politics was more inward-looking, as the Germans and Italians faced the prospect of a new government. President Trump became more vocal on the subject of import tariffs to be implemented shortly, prompting suggestions of trade wars, whilst in China, the communist party opted to remove presidential term limits, allowing President Xi to run for a third term.
UK
The lack of positive news flow around Brexit and the transition deal has been somewhat disappointing in recent weeks as the delicate task facing Mrs May of keeping the Cabinet united on an agreed stance, whilst facing the complex challenges of the negotiation process, becomes ever more apparent. It is perhaps no surprise that the Pound gave up some of its recent gains, drifting lower through the month and ending at U$1.38.
The economic data continues to reflect the divide between strong company order books and weaker consumer spending. Wage growth is starting to accelerate and the latest data showed whole economy wage growth at +2.5% for the prior 3 months. Dig a little deeper into that data and we find that the latest private sector monthly wage growth data is up 2.8% on the prior year; within touching distance of the CPI inflation rate of +3.0%. However disposable incomes are still being squeezed as Food Inflation remains persistently high. As a result, the UK high street remains very tough with many retailers and restaurant chains reporting poor results. Uncertainty over Brexit is also having a dampening effect on major purchases such as housing transactions, which remain below the pre-2008 levels, as the chart below shows.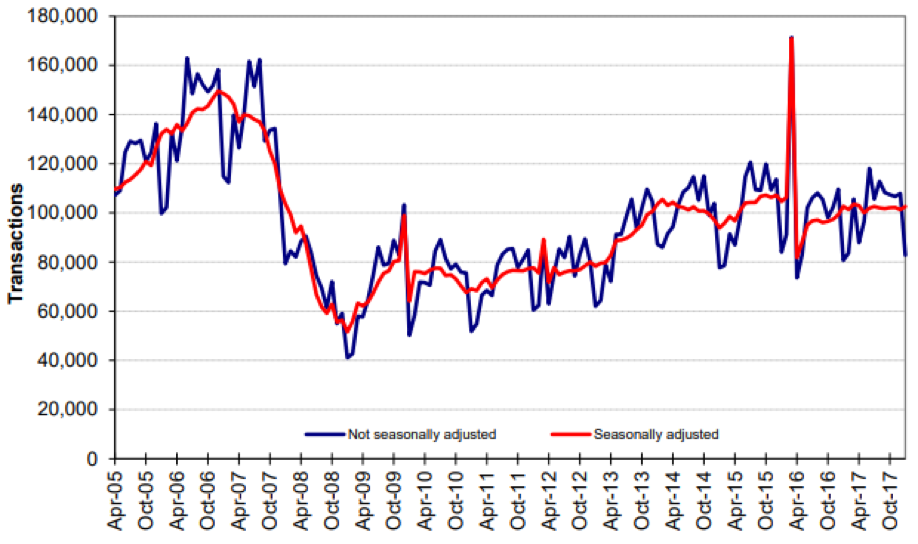 Source: Office Of National Statistics
The UK equity market was not immune to the falls in global equities during February. The FTSE 100 was down around 4%, with similar falls for mid and small caps. UK ten-year Gilt yields were broadly unchanged over the month, but they did peak at 1.65%, before ending the month at around 1.50%. Whilst a market sell-off normally drives investors towards the traditionally defensive sectors, this one was rather different. The rise in bond yields, as well as some disappointing trading updates from individual companies, has meant that sectors such as Utilities, Beverages, Food Producers and Tobacco have remained out of favour. Reckitt Benckiser had a disappointing set of results and the shares fell by 15%, Standard Life was down 13% on news of the ending of their investment relationship with Lloyds Bank. The long running Sky bid story took an unexpected turn when US media company Comcast launched a hostile bid and the shares rose by 27%.
Europe
February was a difficult month for European equities, as the turbulence seen in world markets also affected the markets of the EU to varying degrees. There was no clear division between major and peripheral markets, but all turned in negative returns for the month. Among the worst performers were Poland, -6.6%, Spain, -5.8%, and Germany, -5.7%, whilst Luxembourg, which has been a poor performer of late, fell by only 2.7% and both France and Belgium lost 2.9%. Both growth stocks and value stocks were equally out of favour. Overall, the Euro Stoxx 50 Index fell by 4.7%, whilst the more broadly-based Euro Stoxx 600 lost 4.0% and the MSCI Europe Small Cap Index managed a slightly better return of -2.9%. Large-cap utilities, tobacco and consumer staples companies – the so-called 'bond proxies' were particularly susceptible to profit-taking, as noted in the UK.
February provided a political lull before the storms seen in early March, with the Italian election, German coalition vote and President Trump's trade tariffs. The spotlight was primarily on the state of Brexit negotiations, where the Irish border continued to be a concern, and there was division within the Conservative party as to Britain's future membership of a customs union. Hard-line Brexiteers, led by Jacob Rees-Mogg, point to the fact that membership of any such union would make Britain subject to EU trade rules and hence rule out any trade deals with other nations, effectively negating one of the main points of Brexit. Others, however, see a better deal for Britain within a customs union with the EU, than outside, seeking to create trade deals from scratch with other nations.
Returns from the Government bond markets were modest, but positive, with the S&P Eurozone Government Bond Index rising by 0.2%. Across the individual markets, returns ranged from +0.1% from the Netherlands to +0.3% from France. Political paralysis in Germany has led to less immediate fear of a rate rise from the ECB, whilst concerns over rate rises had, to some extent, already been factored into investors' thinking, due to the strong economic growth seen in the region in recent months. The ECB, meanwhile, has been preoccupied with currency wars and the prospect of trade tariffs from the US. Index-linked bonds fared slightly better than their conventional counterparts, rising by around 0.3-0.4%, while corporate bonds were broadly unchanged over the month.
Unemployment continued to edge lower, driven by improvements in the labour markets of Greece and Spain, whilst inflation also continued to recede from its November high of 1.5%, recording just 1.2% in February. Meanwhile business confidence, particularly in the manufacturing sector, measured by a European Commission survey of 22,950 companies, remained strong, as GDP growth (up to Q4 2017) remained robust, helped by healthy foreign demand.
Source: Bloomberg/European Commission
The Euro gained 1.3% against a weaker Pound, but was otherwise lower against Asian currencies and fell by 1.8% against the Dollar. This trend may well continue if expectations for US rate rises are fulfilled and appear faster than rises in Europe.
US
The US economy continued to grow strongly in February, with a range of macro data points posting positive numbers. Regional manufacturing surveys such as the Chicago PMI, Dallas Fed and Philadelphia Fed all posted strong numbers, suggesting manufacturing activity remained very strong. Consumer and Business confidence surveys remained very elevated, particularly for small businesses, as the impact of the Trump tax reforms starts to take effect.
The US Equity market had been going up steadily and consistently, with the S&P 500 up each and every month since October 2016. It is historically un-heard of to avoid 'down months' for 15 months in succession. Additionally, market volatility has been very low. However, this came to an end in February, with the S&P 500 falling by 3.9%.
The trigger for the market fall was the US Department of Labor Wage data, which came out on 2nd February. It was ahead of expectations at +2.9% (the highest reading since 2009) and the previous month was also revised upwards. With the job market as tight as it is and the economy growing strongly, it should be expected that some of the benefits would drop through to workers. A pickup in real wage growth on the back of a stronger economy and better company profits could be viewed as positive, providing it does not lead to higher prices. US Inflation measures remains relatively benign, with US Core inflation (which strips out food and fuel) running at just 1.8%.
However, the unexpected rise in the Dept of Labor wage data heightened market concerns over wage inflation leading to higher price inflation. This caused a sharp selloff in both equities and bonds, with the US 10yr Bond yield rising from 2.70% to 2.86% during the month. Commodities were also weak, with the Oil price falling by 5%.
There are other US wage data points out there. The Atlanta Fed Wage Tracker also points towards +2.9%, but their wage data is trending DOWN, not up. However, the market was paying attention to the higher profile Department of Labor data (blue line in the chart below), not the Atlanta Fed data (red line).
Source: Bloomberg
As in the UK and Europe, so called 'bond proxies' were weak, with Consumer Goods, Telecoms and Property REIT's noticeably poor. Technology was far more robust, with Apple +6% and Cisco +8%. Walmart disappointed the market with poor e-commerce sales and the shares retreated 16%. GE continued to underperform, falling a further 13% this month on the re-stating downwards of prior year earnings. The weak oil price saw a broad retreat across the Oil and Oil services sectors, with Exxon down by 13%.
Asia Pacific and Emerging Markets
Japan
February was a poor month for Japanese equities which fell 3.7%, roughly in-line with other developed markets. Declines were led by the financial services sector which dropped 5.9%. Mitsubishi UFJ Financial Group, the largest Japanese bank, fell 6.7%, after reporting financial results which, although strong in absolute terms, disappointed relative to market expectations. Some respite was found in the healthcare sector which actually rose 1.1%, driven by strong performance from several pharmaceutical and medical instruments firms. Unhedged investors in Japanese equities would also have been supported by a rise in the Yen, which appreciated 2.4% against the US Dollar, and 5.0% against Sterling. On balance economic data was weaker than anticipated, with industrial production, retail sales and housing starts coming in below expectations. The first estimate of fourth quarter GDP was also slightly lower than expectations at +0.1% (compared to +0.2% expected). Nonetheless there were hints of price pressure, with National CPI rising 1.4% year-on-year, bringing the Bank of Japan slightly closer to its 2.0% inflation target.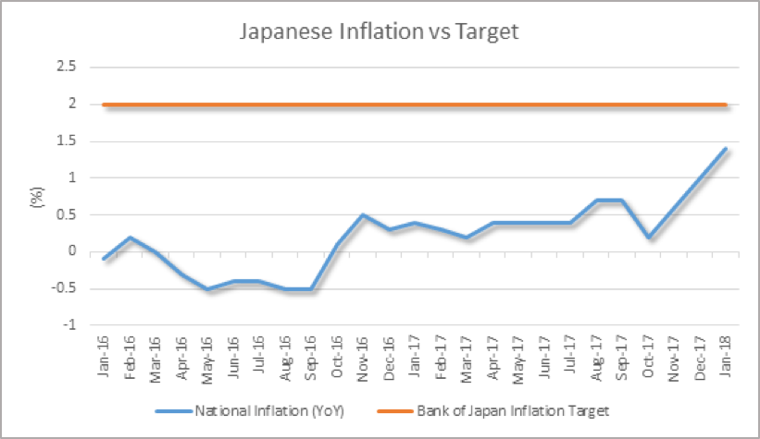 Emerging Markets
Emerging markets largely erased January's gains in February, falling 3.9% in local currency terms, slightly underperforming developed markets. The sell-off was concentrated in Asian emerging markets, with those in South America and Eastern Europe faring relatively better. Mega-cap Chinese stocks were among the worst hit with Tencent (-7.2%), Alibaba (-8.9%), China Construction Bank (-9.2%) and ICBC (-7.9%) giving back most of their quarterly gains. Baidu (+2.2%) bucked the trend, bouncing back after announcing strong fourth-quarter operating profits and positive forward-guidance. Russia was again the strongest performing major market, with the MICEX rising 2.7%, led by Sberbank, which rose 3.0%. Russian equities have been viewed as relatively cheap, especially in light of the recovery in oil prices. Arguably the most important news during the month was the Chinese Communist Party's decision to abolish presidential term limits, effectively giving Xi Jinping the ability to run for a third term. This move further emphasises the strength of Xi's position in the Chinese Communist Party and suggests agreement within The Party for his policy agenda, or at least an unwillingness on the part of dissenters to speak up. Economic data was mixed across major emerging markets, but remained in expansionary territory. China trade data, although potentially skewed by the Lunar New Year holiday, came in particularly strongly with import growth of +36.9% year on year, suggesting strong domestic demand.
This article does not constitute advice. Anyone considering any form of financial planning should seek independent financial advice. First Wealth LLP is an appointed representative of Best Practice which is authorised and regulated by the Financial Conduct Authority (FCA). You should note that the FCA does not regulate tax advice.
Past performance is not indicative of future results. The value of your investment may go down as well as up.