Last week the world awoke to the news that many had thought could never happen, Donald Trump as the US President-elect. Despite naysayers and Domesday predictions the news has so far had little effect on the UK financial markets. It would seem that investors that reacted to Brexit with sell-offs earlier this year may have learned the mistake of short-termism. While there remains a growing concern over the public protests in the US, and the political divisions that have split recent voter decisions, no one truly knows what is going to happen next, including those who have campaigned so passionately. What May, Trump and Juncker will do now remains to be seen.
When people do not agree with our views and circumstances seem to go against us, it is natural to feel disappointment, frustration and even anger. However, we should not lose heart. I have been thinking of Stephen Covey's 'Circle of Influence' for some positive inspiration in moving forward in these uncertain times. In his most famous book, The Seven Habits of Highly Effective People - a blueprint for personal development when it was published in 1989 - Covey explains that in order to be proactive, we must focus on the 'Circle of Influence' that lies within our 'Circle of Concern'. In other words, we must work on the things we can do something about.
"It is our willing permission, our consent to what happens to us, that hurts us far more than what happened to us in the first place."

- Stephen Covey
When we choose to focus our energy on things outside of our influence, it can result in blaming and accusing, to feelings of 'poor me'. This negative way of thinking, accompanied by inertia over changing things, results in shrinking our 'Circle of Influence'. Alternatively, we can choose to focus on the things that we can influence. This does not imply that we should focus on the more trivial concerns. There may be aspects of really huge problems that we can exert some influence over in an indirect way, such as in our own behaviour and responses to them. I am reminded of that old saying, 'charity begins at home' and the wisdom of Mahatma Gandhi that says 'you must be the change you want to see in the world'.
If the recent news of, for example, Trump's dismissal of global warming is worrying you, consider how you can do more within your home and community to make a difference. As Covey preaches, when we focus our attention and energy on our 'Circle of Influence', the energy we expend is enlarging; each little victory motivates us to find new ways of exerting influence. With each step we feel stronger and more creative. And so our proactive focus expands.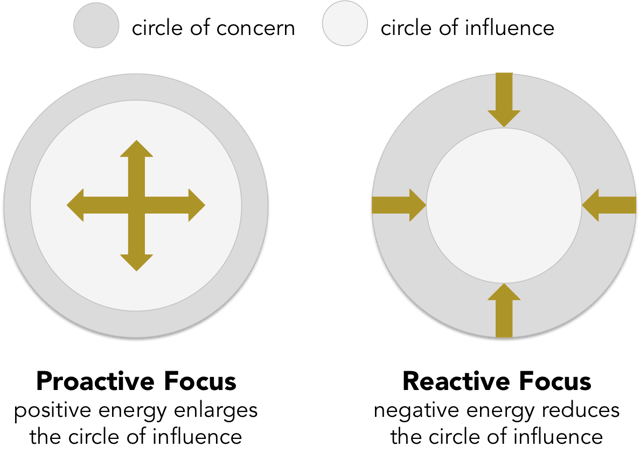 This model is taken from Stephen Covey's 'The 7 Habits of Highly Effective People'.
What is remarkable is that in widening our circle of influence, we also widen our circle of concern. It becomes worth caring about some of the really challenging things in our world, empowering even, if we learn we can influence them.
Rob and I were in Amsterdam last month as we had been asked to speak at a Dutch financial planning conference on our success at First Wealth. Our talk can be viewed online #now2getevenbetter. We told the story of our journey, from working together early in our careers, to meeting up again after the 2008 financial crisis and on to our motivation for founding First Wealth. Our business model was to combine financial planning, investment management and tax planning. We had committed to a fee-based model, which was innovative at the time, three years before the Retail Distribution Review. Like most businesses, we have had highs and lows and some challenges along the way. Most significantly, we felt an enormous sense of frustration in 2012, as we couldn't see how to scale the business any further and were feeling exhausted from working unhealthy hours and missing our families.
In life you have three choices: live with it, leave it, or change it! We had reached our limits and were no longer able to live with it, and had put too much hard work into it that we didn't want to leave it, so we made the proactive choice to change it. It was about this time that Rob and I started to receive some e-mails from Paul Armson, of Inspiring Advisers. His messages about the 'Alternative Advisers Concept', 'Three Hats' and the 'Bucket Presentation', which I have recently expanded on, provided a catalyst for change and helped us to think differently in order to reshape First Wealth.
We defined our reason for being, our 'why', our values and vision. We built a team around us that shares these core objectives. Within 12 months our profits and turnover had increased by 20% and we had won four major awards. Best of all, we took some holiday time and started to enjoy our weekends. It has been an amazing turnaround both personally and professionally. It is our passion and belief that we are doing the right thing that keeps leading us towards proactivity and innovation.
No one can predict or control politics or the stock market, as this past year has clearly demonstrated. However, at First Wealth we have decades of experience in how markets work and an ethos that motivates us to focus on the circumstance that we can change. Excellent financial planning will make your life better. Having a true understanding of your investments, liabilities and expenditures, and considering these alongside your deeper circumstances about your lifestyle and what you hope for in future will lead you towards your own 'Circle of Influence' and the freedom to pursue a life you love.
If you need any help with managing your investments or with any other aspect of your financial lifestyle planning, then please give us a call on 020 7467 2700 or email us at: hello@firstwealth.co.uk.