March was another poor month for global equity markets, with the major markets all experiencing further falls to add to their losses from February. Whilst economic data remained broadly supportive, investors were nervous as President Trump's campaign rhetoric turned into trade tariffs aimed at China, with a scattergun approach that also affected the US's European and other allies. Fears of a global trade war led the US market lower and this was compounded by sharp falls in the technology stocks that had racked up huge gains in 2017. In the UK, further progress was seen in Brexit negotiations, but a number of high-profile profit warnings, particularly in the retail sector, saw the major indices come under pressure. Across Asia, the consumer-facing sectors continued to outperform other areas of the markets, and as a whole, smaller company shares performed better than their larger counterparts as investors sought safety in more domestically-focused stocks.
UK
Brexit negotiations took a step forward in March with agreement on the transition period, as well as on the post-exit financial settlement and citizens' rights. The broad sweep of economic data remains unchanged, with strong export and manufacturing data, helped in part by the economic recovery in Europe. After a period of 12 months when wage growth was below inflation, there was better news on real wage growth, with the latest inflation number dropping to +2.7% and average wage growth of +2.8%, as the following chart shows.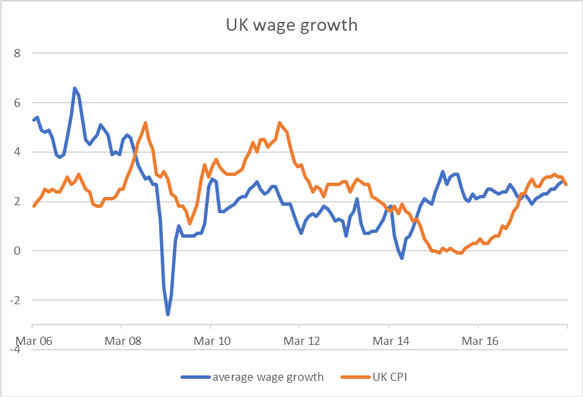 Source: Bloomberg
Real wages grew steadily until the Financial Crisis in 2008. We then had a period of several years when inflation grew faster than wages. Real wages have again been falling over the last 12 months, but any potential recovery in real wages is unlikely to lead to a recovery in retail sales, which have been very weak of late and help explain the succession of disappointing trading updates from the likes of Carpetright, Debenhams and Prezzo. Although the outlook for real wages is beginning to improve, food inflation remains high at +3.3% (in part due to the weakness of the Pound, post the referendum, against the Euro as well as the Dollar) and disposable incomes are likely to remain under pressure. Consumer confidence remains subdued and this is reflected in the weakness in the sales of big ticket items such as cars and houses. As a result, we remain cautious on the short-term outlook for the UK economy.
Having fallen around 4% in February, equities were down again in March as global markets were unsettled by rising US/China trade tensions. The FTSE 100 was down by 2.4%, with slightly smaller falls in the mid- and small-cap indices. The FTSE 100 Index is down 8.2% year to date, and down 10% since the market high on 12th January. UK 10-year Gilt yields fell from 1.50% to 1.35% and this helped defensive 'Bond Proxy' sectors such as utilities and pharmaceuticals to hold up better. Banks and retailers were noticeably weak, the latter reacting to a stream of profit warnings. In terms of individual moves, Micro Focus fell 52% on a large profit warning, following its disappointing acquisition from Hewlett Packard.
The pound ended the month above US$1.40 and is now around 12% higher against the US dollar than it was a year ago, though this is more a reflection of US dollar weakness, rather than Sterling strength. Against the Euro, Sterling was barely changed over the month.
Europe
Given the fall in the US market, it was no surprise to see the stock markets of Europe following suit during March, with investors experiencing a bumpy ride as shares headed lower. The major markets, Germany and France fell by 2.7% and 2.9% respectively, whilst Italian shares fared somewhat better, losing only 0.9%. The latter market continued to be buoyed, to some extent, by bargain-hunting, as investors bought up banks and other stocks that had been weak ahead of the Italian election. Across the Continent, small-cap stocks proved more robust than their larger peers, with the MSCI Europe Small Cap Index losing only 1.7%, compared with a fall of 2.3% for the Euro Stoxx 50. Government bond yields across Europe fell over the period, as investors considered the likely negative effect on growth of a possible global trade war. Eurozone government bonds returned a healthy +1.6% overall, as investors sought safety in Sovereign debt, outstripping riskier corporate bonds, which mostly failed to make gains.
In a month when stock markets provided so many of the headlines, it was easy to lose track of the evolving political landscape across the EU. Germany, which had been without a government since last September's inconclusive election, had its first full month under a new 'Grand Coalition' between Angela Merkel's Christian Democrats and the Social Democrats, with the latter having control of the finance and foreign ministries. Meanwhile, Italy's general election saw the populist Five Star Movement win 32% of the vote; not enough to claim outright victory. Negotiations to form a government are likely to be difficult, and possibly lengthy, leaving the EU's third-largest contributor and one of its most indebted nations without a government in place for the time being.
In France, President Macron's attempts to overhaul SNCF, the state-run railway system, resulted in strike action. Negotiations with the rail union have proven difficult in the past, with Alain Juppéin 1995, being forced to withdraw proposed reforms to the retirement age, and elimination of jobs in the industry. The 1995 dispute was supported by the Paris metro workers, postal workers, teachers and others and spread from Paris to cover the entire country, leading to an eventual climb-down by the Government. The current dispute looks set to continue for a while, as strikes are planned for two days out of every five for the next three months. It is hard to imagine that prolonged disruption, or a repeat of the widespread strikes of 1995 would not have a negative effect on productivity and the investment markets. However, the rail reforms are a part of Macron's larger pro-business reform package aimed at modernising the economy and reducing workers' rights. The successful implementation of these plans would be seen as providing a significant boost to businesses and the economy.
In other political news, EU nations were on the receiving end of President Trump's steel and aluminium tariffs, which, despite being aimed at China, did not exclude the US's allies, and despite diplomatic representations from the EU, there has not yet been any exemption granted. In a worst-case scenario, the EU could find itself involved in a full-blown trade war, and this was one of the concerns that weighed heavily on the markets during the month. Whilst no action has yet been taken, the EU has signalled its willingness to consider tariffs of its own on American imports.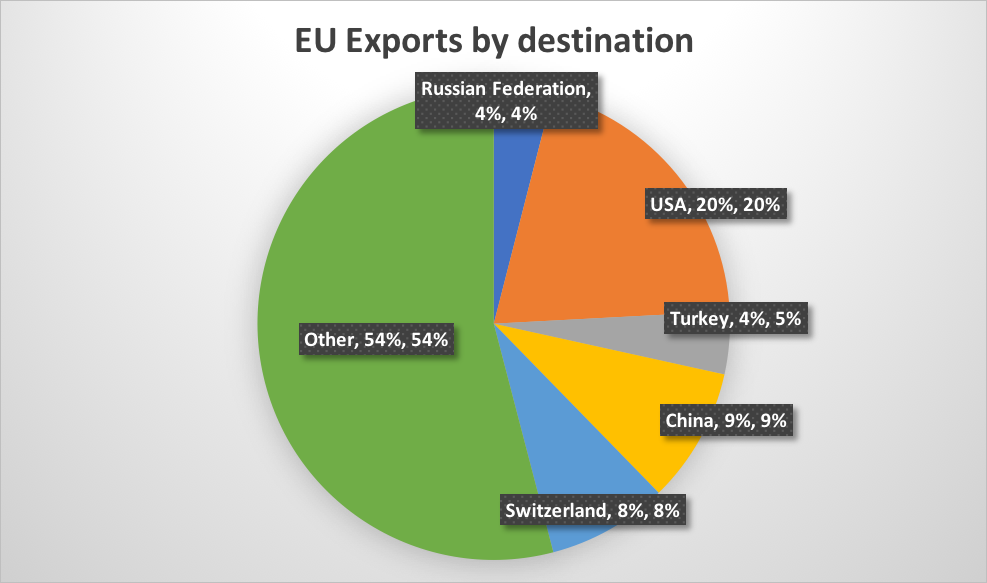 Source: World Bank
US
There was further evidence of the robust growth in the US economy in March. Consumer and business confidence figures were particularly strong, with US small company confidence the highest since 1983. The forward lead indicators (which take a blend of economic data points to provide a guide to the short term economic outlook) were also elevated. The fear of wage inflation, which contributed to the market falls in February, abated somewhat when the latest wage inflation data showed a moderation in the rate of pay settlements from +2.9% to +2.6%. Markets seemed to take this news in their stride, maybe due to their attention being elsewhere. Overall, the US labour market remains strong, with steady falls in unemployment and rising vacancy rates, but little sign of actual wage inflation.
If we are looking for some evidence of moderation in the pace of growth, then some of the regional business activity surveys have come off their recent highs. This is best shown by the Chicago PMI survey, which measures manufacturing activity and confidence in the Greater Chicago area. Any reading over 50 signals expansion. But overall, the broad sweep of US economic data remains very positive.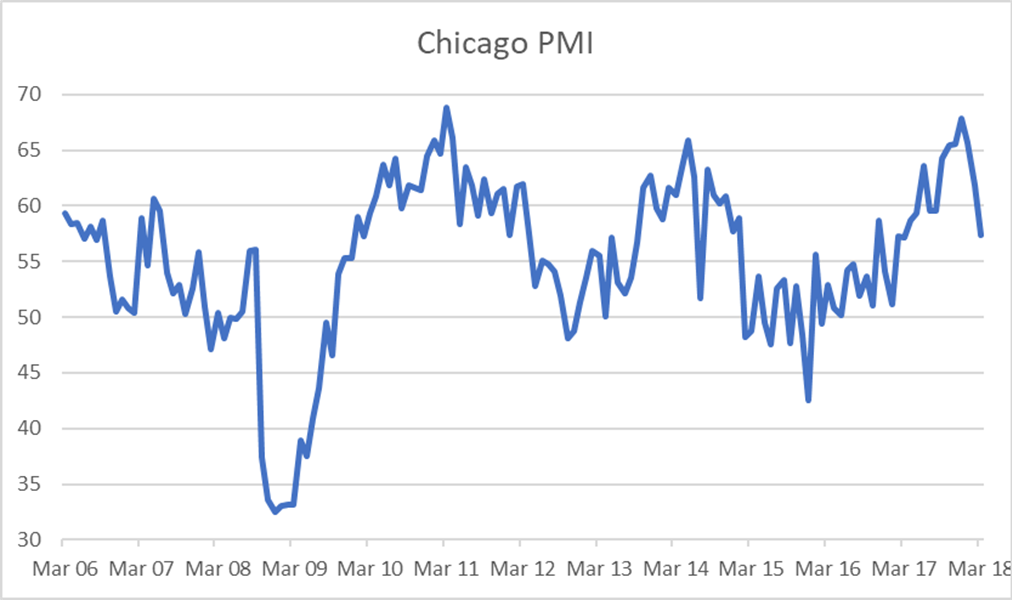 Source: Bloomberg
Rising US/China trade tensions led to proposals by President Trump to implement tariffs against Chinese steel and aluminium imports. Later he extended this to cover U$50bn of Chinese imports in response to allegations surrounding Chinese actions towards US intellectual property.
The US equity market reacted badly to the news flow on tariffs, with the S&P down 2.7%. Unauthorised use of personal data by Facebook and highly critical comments by the President relating to Amazon's tax and business practices saw many of the leading tech stocks give up some of their recent gains. NASDAQ fell 2.9%, with Facebook down 10%. US small-cap companies performed better due to their focus on domestic exposure, where the impact of US business tax cuts is more relevant than the US/China trade dispute.
After a steady rise in bond yields in recent months, US 10-year bond yields fell back from 2.86% to 2.74%. This helped utilities and pharmaceuticals, which had performed poorly, to regain some of their recent ground. The first meeting of the US Federal Reserve under their new Chairman, Jerome Powell, declared that "the economic outlook has strengthened in recent months" and raised US interest rates by 0.25%. Another two interest rate rises are expected during 2018. Having previously expected two further rate rises in 2019, the Fed is now expecting to raise interest rates a further 3 times next year, as the US authorities pursue a policy of returning to historically more normal interest rates.
Asia Pacific and Emerging Markets
Japan
March was a poor month for Japanese equities, with the TOPIX falling 2.0% (in local currency terms), slightly better than global markets. The sell-off was concentrated in large-cap stocks with the large-cap index falling 2.6%, compared to a decline of 1.2% for small-caps and 1.8% for mid-caps. Softbank was the poorest performer, falling 10.4%, continuing a decline from February when earnings came in below expectations. Cyclical sectors such as basic materials and industrials fell more than defensive sectors such as utilities and real estate. In the latter half of the month, political issues weighed on markets as Abe's approval ratings hit new lows, following additional information becoming public regarding a long running cronyism scandal. Economic data was of some comfort with GDP coming in higher than expectations early in the month at +1.6% year-on-year. Household spending also surprised on the upside. However, the manufacturing sector appears to have cooled somewhat with the flash manufacturing PMI index coming in lower than anticipated, driven by lower job creation and growth in new orders. The Bank of Japan retained its key policy settings as inflation (National CPI, +1.5% year-on-year) edged slightly closer to the 2.0% target.
Emerging Markets
Emerging markets fell 1.9% in local currency terms during the month (as measured by the MSCI Emerging Market equities index), faring slightly better than developed markets. Declines were driven by the large-cap segment of the market, with small and mid-caps outperforming. There was divergence within emerging markets on a regional basis with Korea and Taiwan, two of the largest constituents, generating positive returns as other markets fell. Both markets were supported by technology hardware manufacturers such as Samsung, SK Hynix and Taiwan Semiconductor, potentially suggesting some easing of negative sentiment in this segment of the market that was sparked by negative broker reports in late 2017. Russia was the weakest performing major emerging market, declining 3.7% in USD terms, giving back some of the solid performance generated in January and February as the Rouble fell amid a series of US-led sanctions that were introduced during the month. Consumer staples generally held up well, however more cyclical sectors such as materials and consumer discretionary underperformed. Trump's tariff announcement shook Chinese markets, with the Shanghai Composite falling 2.8% on the day following the announcement. Investors should be conscious of the fact that direct trade with the US is only a small part of the Chinese economy, with exports to the US equating to roughly 3.5% of GDP."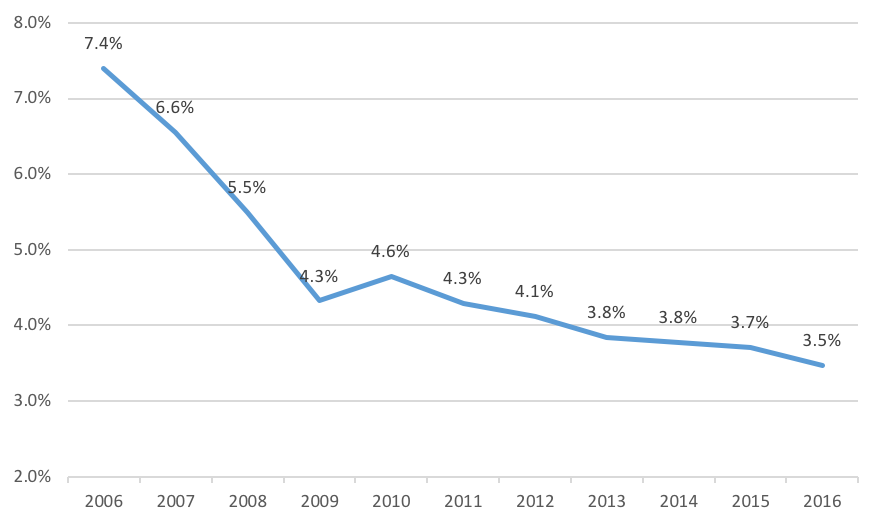 This article does not constitute advice. Anyone considering any form of financial planning should seek independent financial advice. First Wealth LLP is an appointed representative of Best Practice which is authorised and regulated by the Financial Conduct Authority (FCA). You should note that the FCA does not regulate tax advice.
Past performance is not indicative of future results. The value of your investment may go down as well as up.