- Fears escalated over the prospect of a Brexit with no deal
- Sterling weakened against most other currencies during the month
- Italy's 5-Star Movement and the League party formed a new populist/anti-EU coalition
- More tough rhetoric from the US revived fears of a trade war with China
- Oil Prices fell as Russia and OPEC discussed increasing exports.
- Japanese equities were weak, led by financials and poor growth figures
- Rising US rates exposed weakness in some emerging markets
- Asian markets were generally resilient, compared with weaker emerging markets elsewhere
The World at a glance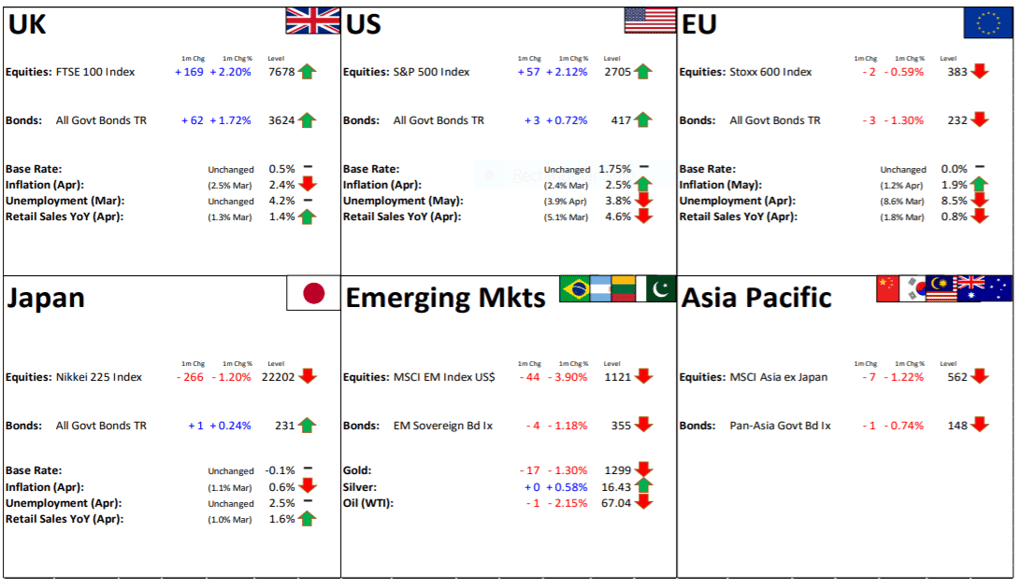 Source: Bloomberg, Trading Economics
World equity markets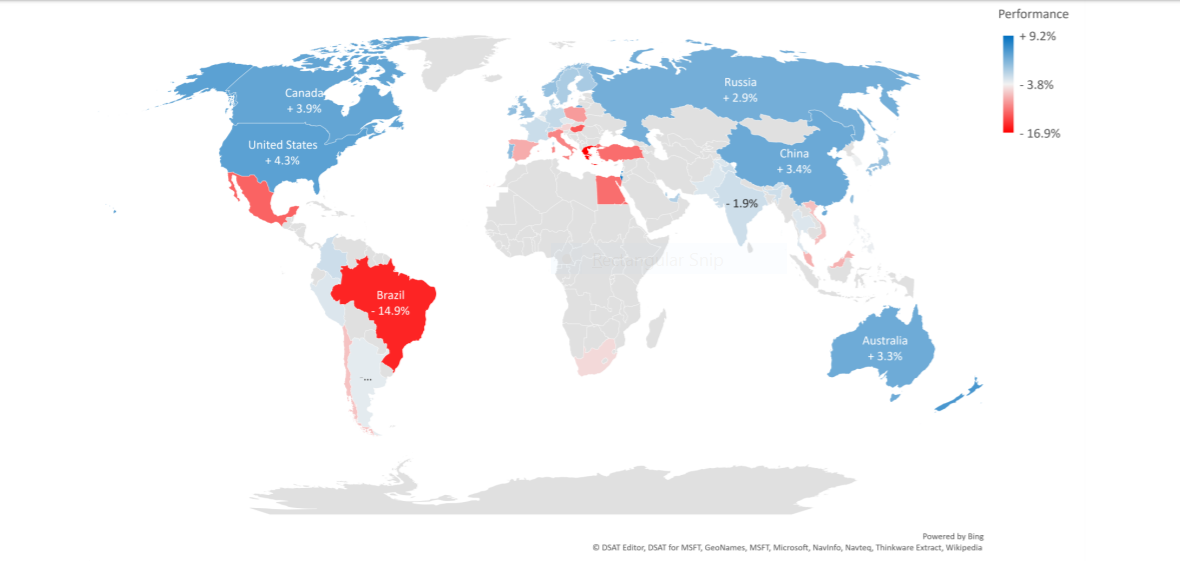 Source: Morningstar, FTSE National indices in Sterling
During the month, the best performing market was Israel, +9.2%, and the worst was Greece, -16.9%. May was a mixed month for equity investors across the major markets, with strong returns coming from North America, whilst Europe and Japan performed poorly. A mixed return was seen from emerging markets. South America fared particularly badly, led lower by a truckers' strike in Brazil, a decline in the oil price and falls in the shares of oil companies on the continent. Russia and China conversely saw strong rises as their currencies gained against the Dollar.
European equity markets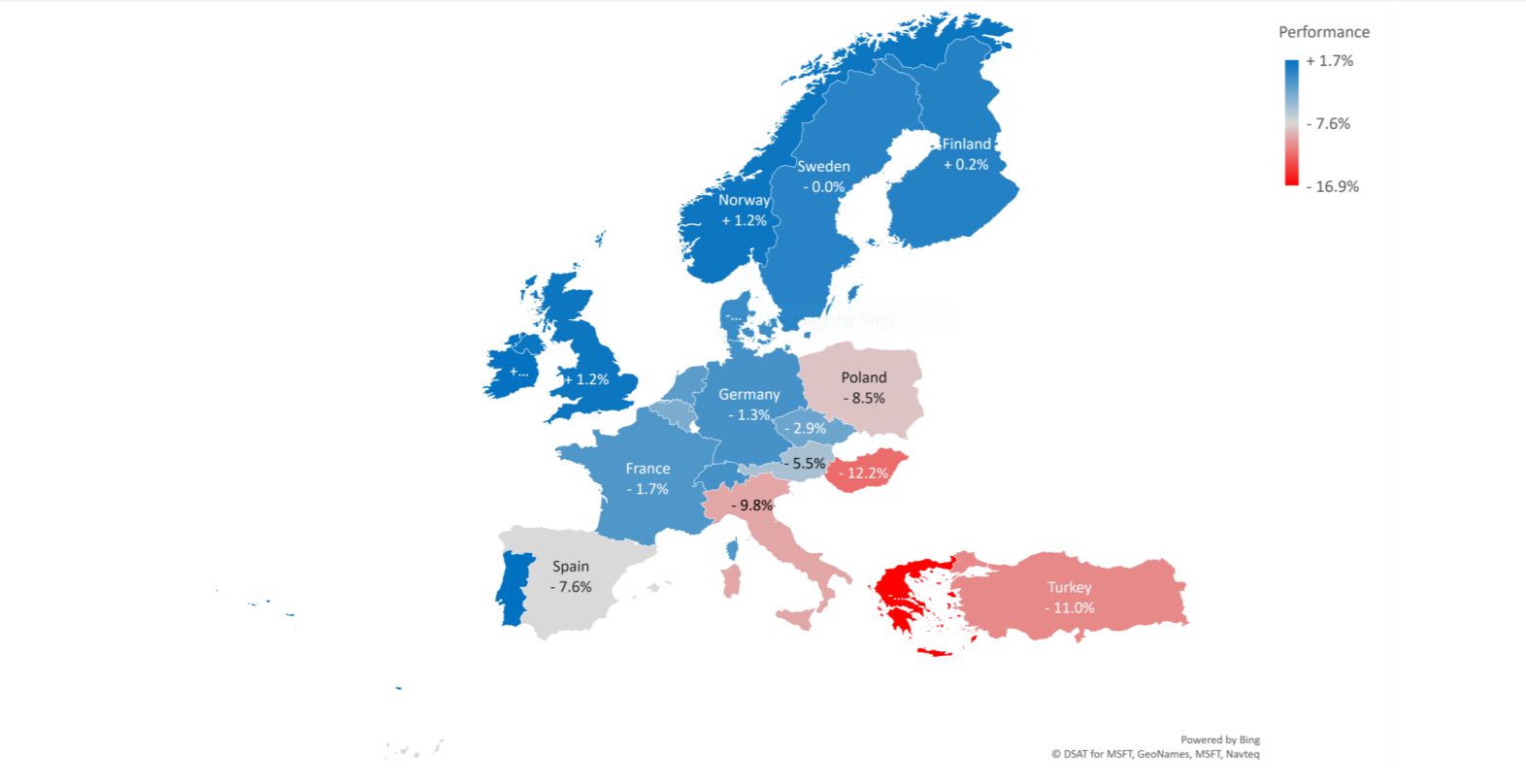 Source: Morningstar, FTSE National indices in Sterling
During the month, the best performing market was Portugal, +1.7%, and the worst was Greece, -16.9%. European markets were weaker overall, with the political uncertainty in Italy, where a new populist/anti-EU coalition has been formed, sending ripples of unease through the weaker nations of the Eurozone. The better returns during the month came from the Nordic countries and the UK, with relatively minor falls in the main European markets. Emerging European markets provided a drag on emerging markets funds.
Currencies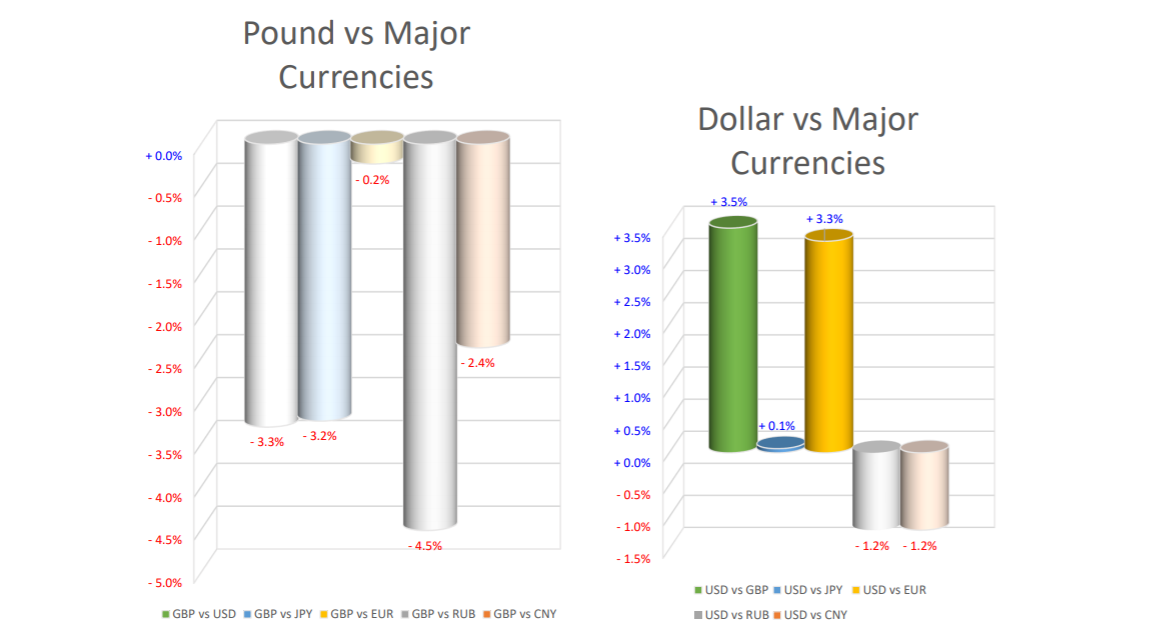 Source: Bloomberg
Generic 10-year yields*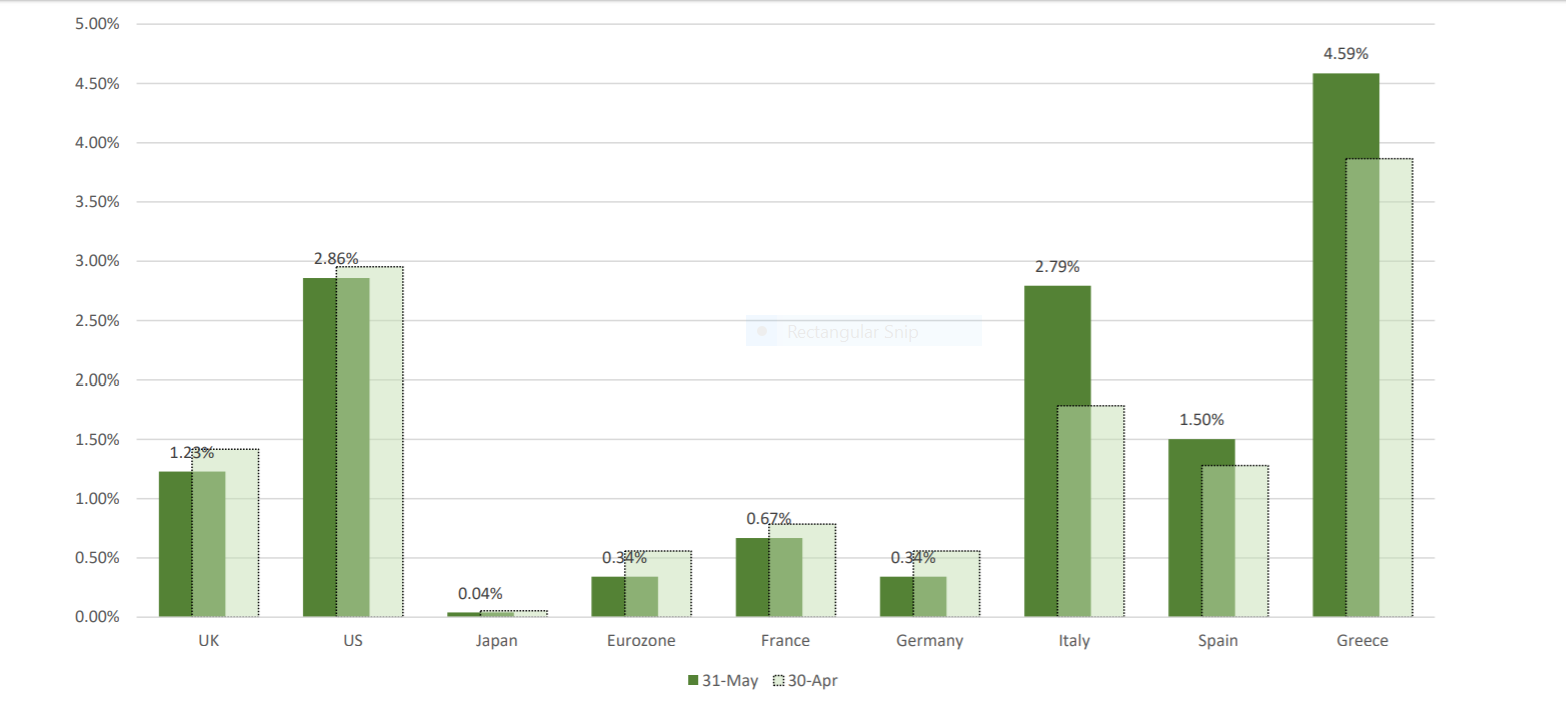 Source: Bloomberg
*A Generic bond is a theoretical bond that always has the specified tenor, unlike a Benchmark bond, which is a physical bond, with a decreasing tenor. The political upheaval in Italy was also reflected in sharp movements in the bond market, as investors switched from riskier Italian, Spanish and Greek bonds to the perceived relative safety of French, German and ECB issues. The spread between the stronger and weaker economies' sovereign bonds widened dramatically. Meanwhile, yields in the UK and US contracted slightly as pressure for further early rate rises appeared to recede, benefiting some long-only bond funds.
Why are US bond yields rising?
The big event in world markets so far this year has been the move in the US 10yr Bond Yield (Yields rise as Bond prices fall) to 3%. The US Bond market is the biggest and most liquid market in the world so what happens here influences other investment markets across the globe. US Bond Yields were 2.40% at the start of January and have been rising faster and further than most commentators expected. So why are US Bond Yields heading higher? There are many factors at play here, but let's concentrate on four of them. Firstly, the US economy is performing strongly. Growth has been modest in recent years, mainly due to consumer spending holding up. What has been missing has been Business confidence and Business investment. Confidence rose with the election of President Trump, who was perceived as being more business friendly than his predecessor. But it was the recent tax reforms that have driven Business confidence and investment higher, which is starting to come through in the economic data.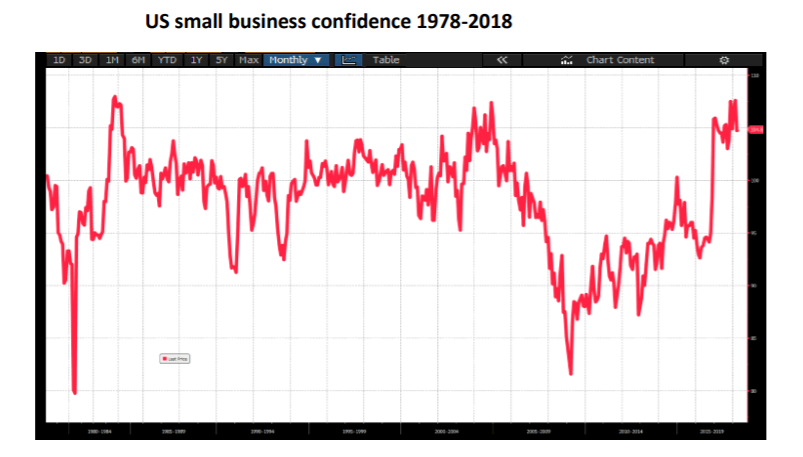 Source: Bloomberg
Secondly, the more that there is of something, generally the lower the price. In the short term, the Trump tax reforms means a big increase in the US budget deficit, which will have to be funded by increased selling of US Bonds. Adding to the selling pressure is that the US Federal Reserve is no longer buying some of the Bonds that it was issuing, and it also used up a lot of its reserves to fund last years' deficit. Put simply, compared to last year, there's a lot more Bonds about.
Third, Bond markets don't like inflation and particularly if they appear to be more worried about inflation than the authorities. (when you hear people talk about the Fed 'being behind the curve', this is what they mean.) There is little sign of inflation rising to a level that would cause the authorities concern. But you can see inflation in the Oil price. Despite rapidly growing US OIL production, the oil price has been rising in recent months due to strong demand, worries about the Middle East and falling output from Venezuela. Some investors may be getting concerned that the rising Oil price could start to feed through into the inflation figures further down the line, most obviously via the Gasoline price.
Finally, Bond Yields have been at historically very low levels ever since the Financial Crisis. This was due to the concern that economic growth going forward would be much lower than previously seen. Under more normal economic conditions, Bond Yields should track or be slightly above the growth in Nominal GDP. (that's the sum of the inflation rate and the GDP growth rate) But in recent years, it has been significantly below that. But better US GDP growth and modest increases in the inflation rate have combined to produce a steady increase in the rate of nominal GDP growth – a sign of a return to more normal economic conditions in the USA. This has acted to lift up US Bond Yields back towards more normal levels. Though as this chart shows, there is still some way to go to get Bond yields back above Nominal US GDP (currently 4.8%)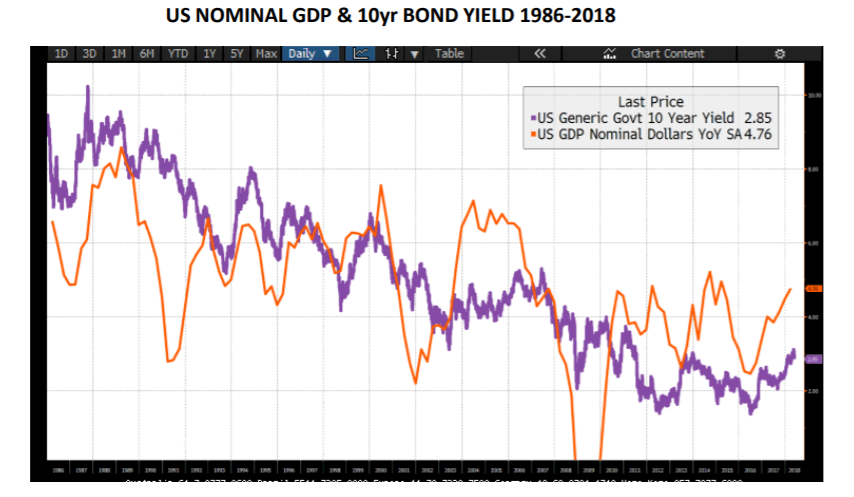 Source: Bloomberg
Bond Yields are rising for good reasons (better economic growth), rather than bad ones (inflation) and this shouldn't necessarily threaten Equity Markets. Several months ago, US Bond Yields looked too low given the better economic data that we were seeing. This view that Bond Yields were set to rise (and therefore Bond prices set to fall) was a key factor behind the construction of portfolios that were designed to avoid an asset class that was traditionally regarded as a safe haven but was to our mind fundamentally miss-priced. With stronger economic growth and subdued inflation, those factors remain in-play.
This article does not constitute advice. Anyone considering any form of financial planning should seek independent financial advice. First Wealth LLP is an appointed representative of Best Practice which is authorised and regulated by the Financial Conduct Authority (FCA). You should note that the FCA does not regulate tax advice.
Past performance is not indicative of future results. The value of your investment may go down as well as up.
Lifestyle Financial Planning Toolkit
Start planning for a better future. Download our free lifestyle financial planning toolkit now.