It's hugely frustrating, saps your confidence and compromises your ability to say what you want to say. A stammer can all too easily define who you are, but with courage, personal commitment and the right professional support it can be beaten. I should know, my brother James has squared up to this challenge, and he's a prime example of how single-minded dedication and expert guidance combine perfectly.

— Robert Caplan, Partner & Founder
For inspiring proof, look no further than James delivering a speech to a gathering of students at his old school, Aldenham. James has lived with a stammer for much of his life, alongside 600,000 other people in the UK. In fact, recent stats showed that 1% of people worldwide are stammerers. [1] While there have been numerous studies, the exact reasons why people stammer is unknown. Physically the diaphragm contracts when it should relax, which reduces air flow to the vocal cords and articulators, resulting in blocks, word repetitions and facial contortions. The more you try not to stutter the greater pressure and the worse it gets. So how and why did we find James standing in front of a large audience, delivering a speech?
---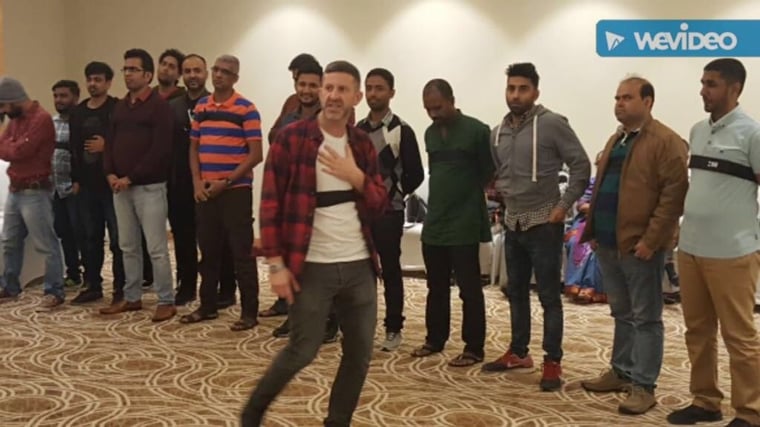 Playing To Win Rather Than Playing Not To Lose
For James it was all about the McGuire programme, which takes a 'tough love' approach to helping people take control of their stammers, which in itself deals with that sense of isolation that you are not the only one. It's an intensive four-day speech course run for stammerers, by stammerers. It combines physical and psychological techniques, while taking you out of your comfort zone by equipping you with the tools to speak confidently to fluent speakers. Call it trial by fire but it works brilliantly and changes lives. After all, if it doesn't challenge you, then it doesn't change you.
The course teaches you to look at your stammer as an iceberg – where the visible profile above the water represents the obvious symptoms – the freezing, the struggle to start words and the distortion. But most of the problem lies beneath the surface, where the psychological issues lurk. Here's where fear, shame, guilt and anxiety can grow unchecked, fuelling the iceberg's tip.
ITV recently ran a documentary on the course, which left viewers in tears. [2] It's not difficult to see why – participants are encouraged to lay their insecurities and emotions bare. And when someone is revealing their vulnerability and showing how difficult every day can be, it's impossible not to feel moved.
The McGuire programme helped James to shatter this seemingly insurmountable obstacle by focusing on breathing, much as a professional singer would. From here you can build a more powerful and confident voice. Everything revolves around the sporting style maxim: 'playing to win rather than playing not to lose' – powerful words that ring true here.
But it's important to remember that James' work isn't finished, and it never will be. He will always fight his stammer and the course gave him the tools he needs to do so. As he puts it, "Gaining control of my stammer involves hard work and commitment to a plan to ensure success. The assistance of the McGuire Programme gives me a support network and partnership that holds me accountable to my speaking goals."
Three Years On & Counting
It's been three years since James took control of his stammer. Every step has been revealing and positive. And hard work. The heart of the matter is James had the courage and insight to realise he couldn't bury his stammer away and 'sort it' alone. That doesn't work. By seeking out the best possible support, he reached a goal that had at times over the last 30 years seemed distant indeed… and here's where I draw huge inspiration too. Not simply because I've seen my own brother turn his life around, but because there are strong parallels with what we do at First Wealth.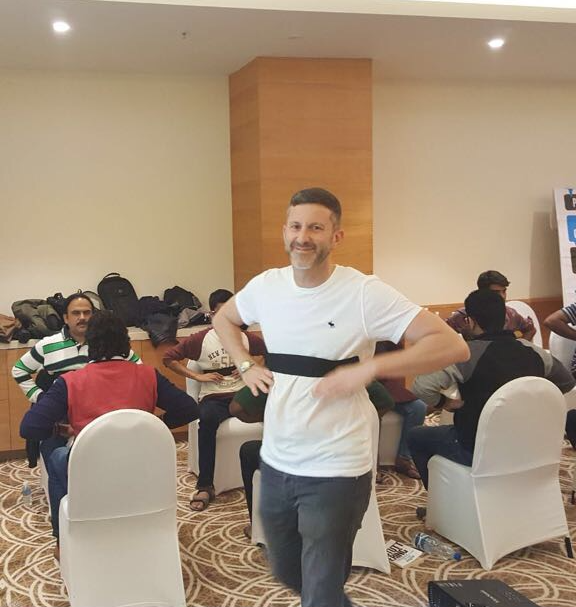 Clear Inspiration For Financial Planning
Of course we can't cure stammers, but we can build confidence, knowledge and self worth. It's all about partnership – working closely together on your dreams and goals. We'll use our huge financial experience and expertise to pinpoint exactly what's going to work for you now and into the future. And just as with the brilliant McGuire programme, those first great strides are the very start. Perfect-fit finances aren't sorted in a one-stop shop and we never work that way. It would be so easy to simply offer some bold advice and move on, just as it's tempting to think your money can be hastily organised and then forgotten. One-off planning isn't planning at all, just as there's no quick fix miracle cure for a stammer.
That's why we passionately believe in being properly involved in sorting your plan, being accountable for its results and getting to know your needs as they evolve through the years.
Great financial planning has the potential to change your life, but very few people can do it alone. If you'd like to chat through some carefully considered and individual options, just get in touch. Go to our contact page or just call us.
This article does not constitute advice. Anyone considering any form of financial planning should seek independent financial advice. First Wealth LLP is an appointed representative of Best Practice which is authorised and regulated by the Financial Conduct Authority (FCA). You should note that the FCA does not regulate tax advice.
Past performance is not indicative of future results. The value of your investment may go down as well as up.
1. The Stuttering Foundation, Stuttering get Congress' Attention, Summer 2014 Newsletter [1]
2. Radio Times, School of Stammerers left a LOT of People in tears, 10 January 2018 [2]
Lifestyle Financial Planning Toolkit
Start planning for a better future. Download our free lifestyle financial planning toolkit now.